20.03.2019
THE CHALLENGE OF FOOD WASTE IN THE 21ST CENTURY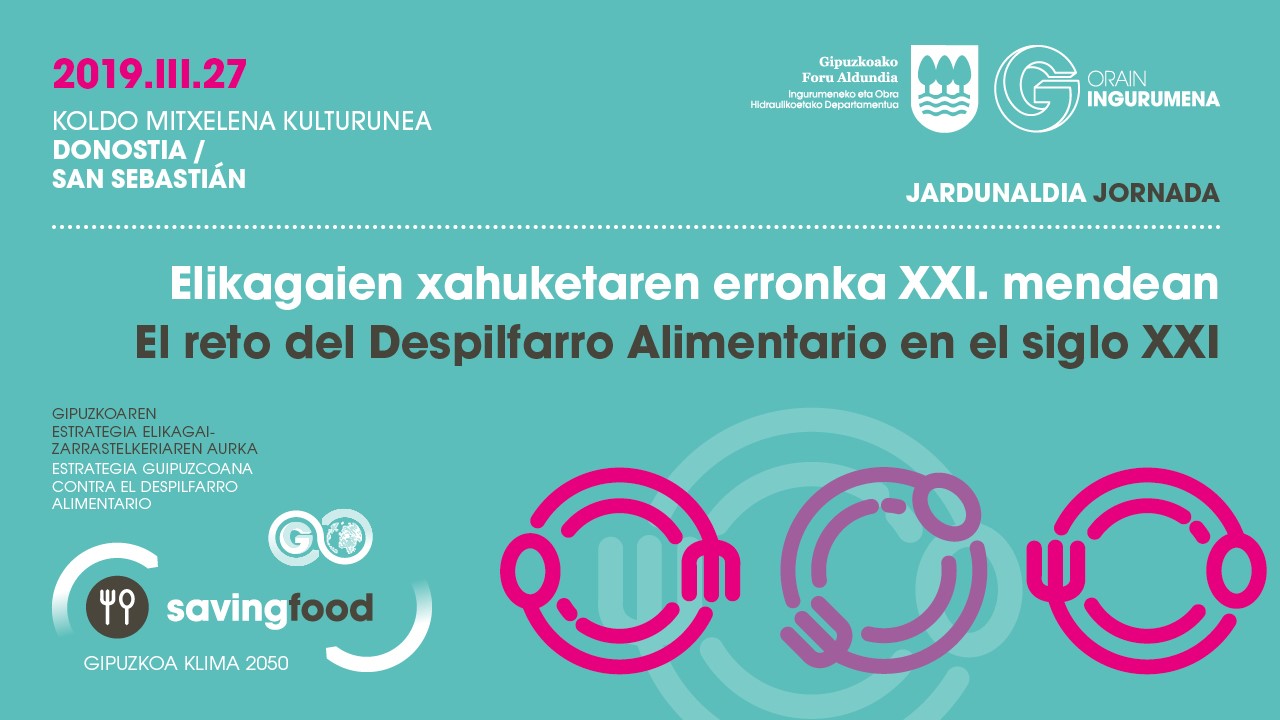 Food Waste is a global problem that is negatively affecting all countries, both developed and developing. In Gipuzkoa alone the figure for food waste is 123,000 tonnes per year, which means a waste of 90 kilograms per person.
The Department of the Environment and Hydraulic Works of the Provincial Council of Gipuzkoa is taking various measures in the fight against this problem that affects us all. In this context, technical conferences are organised in order to be able to delve deeper into the subject matter by the hand of experts, politicians, entrepreneurs and leading specialists in the fight against waste, both national and from other territories. They will be held on Wednesday 27 March at the Koldo Mitxelena, from 9:00 to 13:30.
EXPERTS AND SPEAKERS

The attendance of José Ignacio Asensio, Deputy for the Environment and Hydraulic Works, is confirmed. Raúl Moreno Montaña, Member of the Catalan Parliament, who will present an advanced law regarding the reduction of waste proposed last February in Catalonia. The presentation by the Director of Prosalus, José María Medina, on sustainability in food systems. Or the participation in the round table of entrepreneurs on the subject such as Isabel Coderch, Founder and CEO of Te Lo Sirvo Verde and Oriol Reull, Country Mananger of Too Good to Go. Also present will be Begoña Pérez Villareal, Director of EIT Food CLC South.
In addition, the citizen and business initiatives generated by Proiektuen Azoka 2018 will be presented, a process of ideation and open prototyping to generate solutions against food wastage in our territory. A process promoted and financed by the Department of Environment and Hydraulic Works of the Provincial Council of Gipuzkoa and carried out by Impact Hub Donostia with its team of experts in social innovation.
After the end of the conference, from 13:30 to 14:15, Impact Hub Donostia, Brew&Roll and Okin will invite on the third floor of Tabakalera to an aperitif with circular products developed in the Proiektuen Azoka: Beer made from hard bread and bread made from beer bagasse.