01.07.2022
BIND 4.0 presents more than 30 Industry 4.0 success stories at its in-person Demo Day 2022 event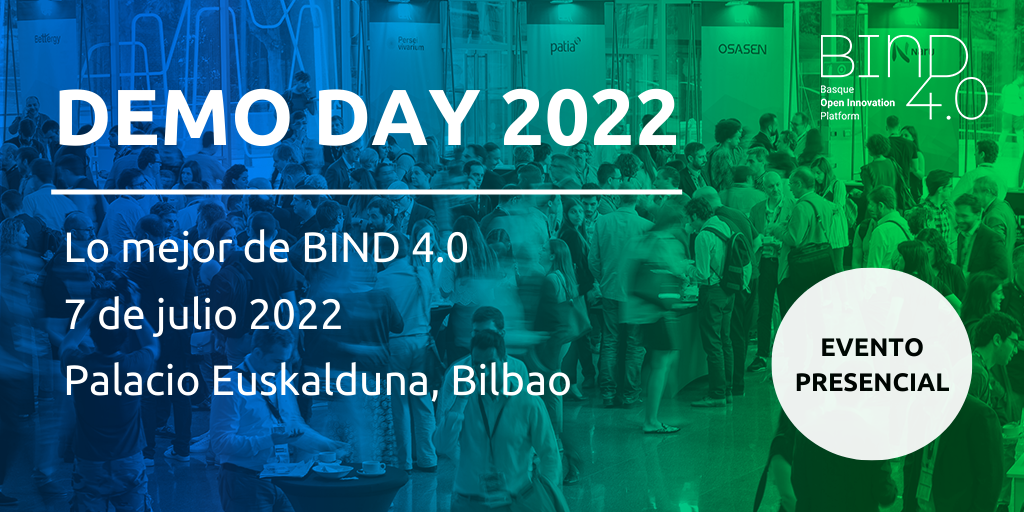 BIND 4.0 will hold its annual DEMO DAY 2022 event on 7 July, for the first time in person following the pandemic, at the Euskalduna Palace in Bilbao.
The BIND 4.0 DEMO DAY 2022 will showcase more than 30 Industry 4.0 disruptive projects undertaken in collaboration with startups and major industry companies, in the areas of smart industry, clean and sustainable energy, food and health. This is one of the industry's leading innovation events, bringing together important industry players in person, including leading major companies, startups, technology businesses and different experts in innovation as well as representatives of the main public institutions supporting the initiative, to generate networking and learn about the latest technological trends.
BIND 4.0 is a public-private Industry 4.0 initiative created by the Department for Economic Development, Sustainability and Environment through the SPRI Group, which has become an international flagship programme. Since the programme started in 2016, more than 160 startups have been accelerated and more than 240 projects have been undertaken, exceeding €7 million in turnover.
The Best of BIND 4.0:
BIND 4.0 success cases will be discussed in different presentations by the startups and the major BIND 4.0 trailblazing companies that carried them out, including: Sidenor, Arteche, Petronor, CIE Automotive, Mercedes-Benz, Eroski, DanoBatGroup, Ramondin, Tubos Reunidos, Uvesco, EDP, Angulas Aguinaga, Arteche, Artadi, Sarralle, Keralty, Ingeteam, Ulma, Obe Hettich, Osakidetza, RPK, Coca-Cola Europacific Partners, ITP AERO and Iberdrola.
Industry 4.0 startups exhibiting at DEMO DAY 2022
The event will also feature a large physical exhibition space where the more than 25 startups participating in the sixth edition of BIND 4.0 will showcase their latest technological innovations. Exhibiting startups include:
Ancora, Arctic Sea, Bechained, Cooling Photonics, Deep Detection, Donomotics, EPowerlabs, Faradaic, Fuvex, Glucovibes, Heuristik, ImagoAI Inc, Ingeniería y Control Merasys, Innosep, Ipartic Consulting, Kaytek Digital Business, Legit.Health, Less Industries, Metis Labs, Nabla Vision SL, Nazca Ingeniería, Nymiz Software Company, Oreka Interactive, Recircular, Steering Machines, Trak, ViveLab Ergo.
Why attend BIND 4.0 DEMO DAY?
This in-person gathering is also an excellent opportunity to connect with the industry's innovation and entrepreneurship ecosystem. Firstly, companies can learn firsthand about success cases and examples of collaborations between startups and leading companies; secondly, they can discover new trends and startups in industry 4.0. Furthermore, it is also an essential meeting point for the leaders of Industry 4.0, investors in search of new projects or startups specialising in next-generation technologies.